WHO WE ARE

Teamsters District Council 4 is made up of hard-working men and women throughout the state of Illinois and Indiana, we are an affiliation of members of Local 458M and Local 568M. Our members are diverse and traditional in the Graphic Industry, we represent from Garment Stitchers to Newspaper Pressman our strength is found in our diversity in our trade!

Teamsters District Council 4 represents its members through our Local Union Officers, Local Union Stewards, and Local Executive Boards. Our Union has been active for over 100 years in the Chicagoland area and we are proud of our history and knowledge in the Graphic Industry. Having the International Brotherhood of Teamsters behind us we work to negotiate the best contracts possible and to provide the strongest day-to-day union representation for our members.
MEMBER INFORMATION

The GCC/IBT District Council 4 Health & Welfare Fund encourages eligible members and their spouse to participate in our annual Preventive Care Exam program.

Each participant will receive a $100 Gift Card, provided by your Health Fund!

Appointment slots are available for you now – and the exam is covered at 100%!

See the video above to learn more about our new Preventive Care Program.

To make an appointment, call Health Dynamics at 414-443-0200 (option 5) – or use the Locations Link below to find the examination site that suits you best and call them directly.

---

UNION DISCOUNT PROGRAMS

As a Union Member you are elgible for services at a discounted rate, Scholarships and much more to view what benefits you are eligible for please click on the following link: https://www.unionplus.org/
| | | |
| --- | --- | --- |
| | | |
| | | |
| | | |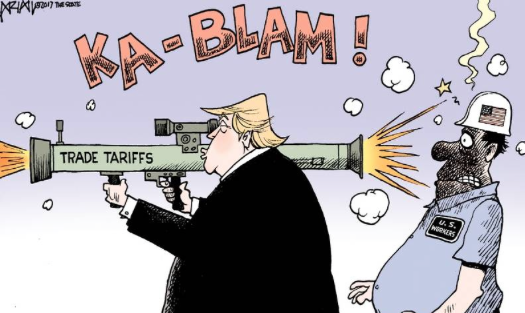 Two years ago, a Washington state paper mill was bought by a private equity firm with interests in everything from pizza and urinalysis to car rentals and chemicals. That transaction, little noted at the time, laid the groundwork for what could be a devastating blow to the already-struggling U.S. newspaper industry.
Under its new owner, North Pacific Paper Co. claimed that it faced unfair competition from Canadian paper mills. The U.S. Commerce Department agreed, recently slapping stiff tariffs on paper that the Canadian mills ship to American newspaper each year. The action has benefited the U.S. mill at least in the short term but its contributing to a huge increase in the price of newsprint.
The tariffs come at a time when the U.S. newspaper business already has lost roughly 30 percent of its subscribers and more than 230,000 jobs because of the recession and readers' growing preference for digital sources of news. Moreover, the supply of newsprint has shrink due to the closing of many paper mills, also casualties of the turn to digital, and an increased demand for newsprint by publishers in China. That shortage is contributing to the steep climb in prices.
"It's almost like a perfect storm with what's going on in China and all the capacity taken off the market, and now with these tariffs," said Paul Boyle, a senior president of the News Media Alliance. "It's just whacking the whole newspaper industry."
The alliance, which represents 2,000 U.S. and Canadian newspapers, is among several trade organizations fighting the tariffs. At least three dozen members of Congress have written to Commerce Secretary Wilbur Ross, warning of the impact on the U.S. newspaper publishing and commercial printing industries that together employ more than 600,000 people.
"By contrast, the tariffs would benefit a single petitioner that employs approximately 260 individuals at one mill." Eight U.S. Senators wrote.
The departure in January imposed preliminary tariffs of up to 9.93 percent on Canadian paper companies. In March, it imposed an additional 22.16 percent preliminary tariff for dumping on all but two companies.
(Taken from an article in Printing News)
Help stop these tariffs by clicking on the following link:https://www.stopnewsprinttariffs.org/elected-officials/
The General Illinois State Election is coming up and printed materials are hitting homes, so it is our responsibility to make sure that all the printed materials are being produced by Illinois Union Printers. If you receive any material make sure of the following:
Does it have a Labor Union Label? (see below for appearance)
OR
Do they have a visible number next to the above image?
If they do make sure its valid by clicking on the following link Union Printers this will have a list of all the valid union labels.
If they do not please report this copyright infringement by contacting our local office at (630) 668-4337 or send the printed material to our office at 455 Kehoe Blvd. Ste. 110, Carol Stream IL 60188. We will make sure any illegal use of our union labels are addressed and dealt with in a legal manner.
If the printed material does NOT have a union label, please report that as well, so we can contact that candidate to inquire why they are not supporting Illinois Union Printers.
We all need to protect union jobs and by policing our union labels we are making sure that any illegal use will not be tolerated.
Dear Brother and Sisters,
The Joint Select Committee on Solvency of Multiemployer Pension Plans is holding meetings to discuss the multiemployer pension system and it is important to contact your Congressional offices to urge support of the Butch Lewis Act (HR 4444/ S. 2147). The Butch Lewis Act is the only plan that will provide a path to financial health for troubled pension plans and ensure that retirees and future retirees receive all of the benefits that they earned.
Please contact your member of Congress and encourage them to adopt the Butch Lewis Act by using this link: http://salsa4.salsalabs.com/o/50740/p/dia/action4/common/public/?action_KEY=24488
Below you will find another link that takes you to a online petition at change.org simply by clicking on this link: https://www.change.org/o/national_united_committee_to_protect_pensions
Both of the above links should be shared with your contacts because the future of your family and friends already collecting a pension or those hoping to collect a pension in the future depends on fixing the current system.
We cannot allow the pension system to fail. We can fix this! Act today and click the above links. Share this with your members.
| | | |
| --- | --- | --- |
| | VIDEOS YOU SHOULD WATCH | |
| | | |
| | | |
LABOR RADIO

The Leslie Marshall Show: A nationally-syndicated radio show hosted by Leslie Marshall. Her show frequently highlights issues of concern to unions and working families across the country.

The Union Edge Show: hosted by Charles Showalter, this daily show based in Pittsburgh and available on-line features topics that are important to the middle class and members of labor unions.

Workers Independent News: a national radio show based in Madison, Wisconsin, the site of one of the largest civil actions against a state governor, this daily program recently featured Jim Hoffa, Teamsters General President, in an interview discussing the political landscape.