WHO WE ARE

Teamsters District Council 4 is made up of hard-working men and women throughout the state of Illinois and Indiana, we are an affiliation of members of Local 458M and Local 568M. Our members are diverse and traditional in the Graphic Industry, we represent from Garment Stitchers to Newspaper Pressman our strength is found in our diversity in our trade!

Teamsters District Council 4 represents its members through our Local Union Officers, Local Union Stewards, and Local Executive Boards. Our Union has been active for over 100 years in the Chicagoland area and we are proud of our history and knowledge in the Graphic Industry. Having the International Brotherhood of Teamsters behind us we work to negotiate the best contracts possible and to provide the strongest day-to-day union representation for our members.
| | | |
| --- | --- | --- |
| | | |
| | | |
| | | |
Every year the Trustee's meet to discuss cost and benefits. We are happy to inform the members that the cost for our Health & Welfare will not increase for Local 458M Members or for the Employers for 2020.
Even though costs have not increased our Benefits have been improved.
We have added MdLive Services, which allows members to talk to a board-certified doctor 24/7 through online video (MDLive.com/bcbsil) or phone (888-676-4204).
The board has also increased the Visa Gift Card amount to $200 for all Health and Welfare members who take advantage of the Health Dynamics Program. This program has saved members lives by detecting life threatening illnesses early. The Trustee's s have also changed the requirements of this benefit, so our members are allowed to go to their primary doctor for these tests. If the member goes to their primary, they will need to complete the required form which is attached.
Download:

Health Dynamics Form - Personal Doctor.pdf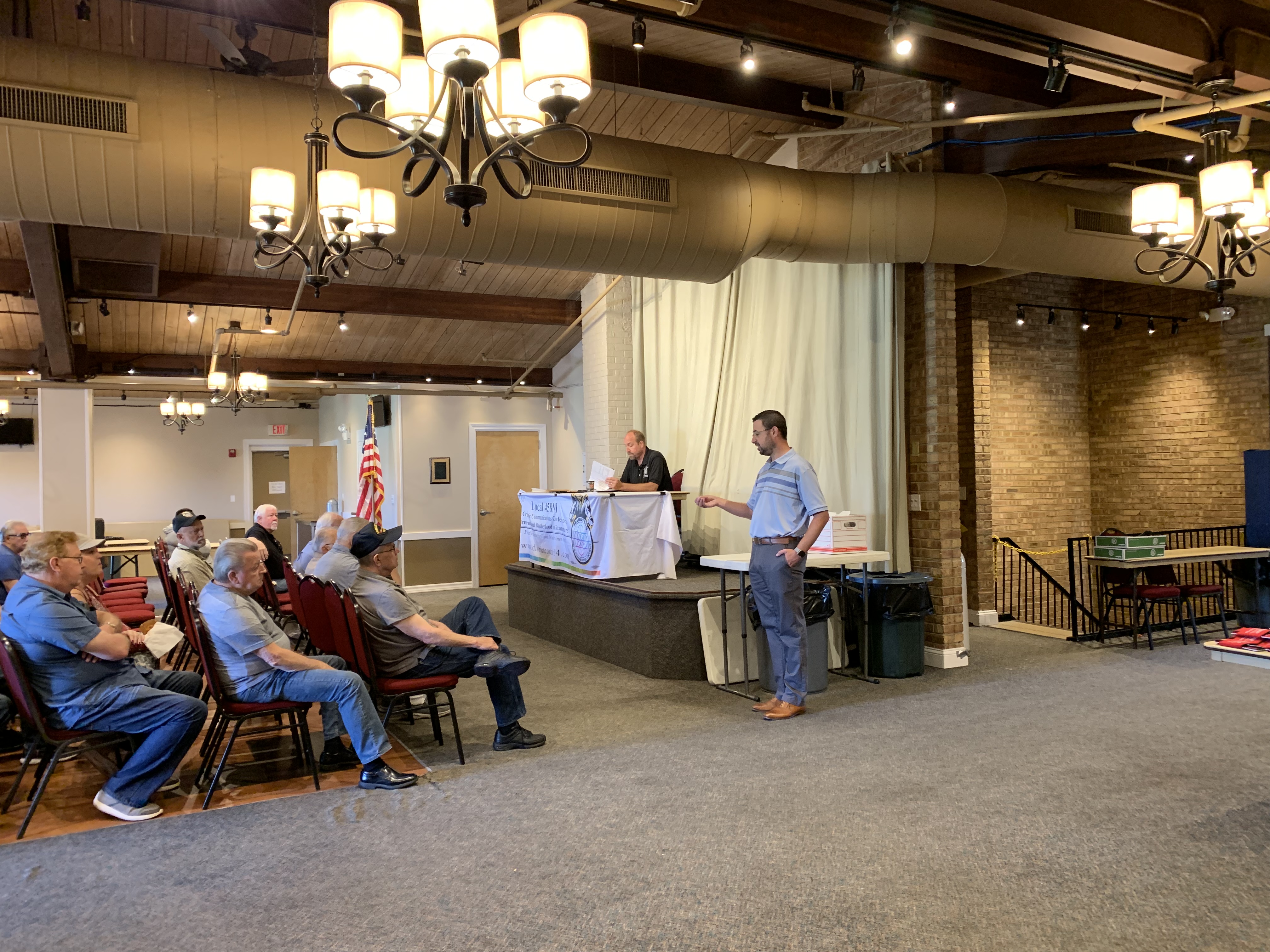 We would like to thank all of our Active and Retired Members that joined us at our Saturday, September 14th Membership Meeting. We would also like to thank Goldberg, Weisman & Cairo attorney's that came out to discuss Worker's Compensation benefits and what your rights are. Our members had great questions regarding what injuries fall under Worker's Compensation all members were very happy for the information. Vice President Reissenweber thanked them for their time and for sponsoring the coffee and bakery.
Vice President Reissenweber reported on the local and the different procedures that he has implemented to assist in ratifying contracts and verify membership. For the past 9 months as a Full Time Officer, Vice President Reissenweber has ratified 20 contracts that have been done to the best of his abilities for the members. He thanked the office staff because he believes it was a team effort in accomplishing these contracts. He reported that along with President Consolino they have been visiting the shops with membership listings to verify the members information i.e. phone numbers, addresses, and beneficiaries. Vice President Reissenweber believes that this has been very helpful to the local because we have found employees working at the shop that are not union members. He also stated it is important for all employees that should be union members become union members in a timely manner because it affects their benefits. While reading his report Vice President Reissenweber asked for assistance from the attending members for employee recommendations for entry level positions at many of our shops. We have several shops looking for employee's unfortunately we have not been able to fill these positions with the current out of work members. If anyone is interested in applying for these positions, please contact Vice President Reissenweber at the local office.
President Consolino was not in attendance due to a previously scheduled event but he submitted a report that was read by Vice President Reissenweber. One main point found in his report was the importance of supporting the Butch and Lewis Act and urged our members to contact their Representatives. President Consolino also reported on his work as an ILPF Trustee, and how he has been assisting in promoting this pension fund with other Teamster Locals. He feels that all ILPF Trustee's should come out and assist the ILPF administrator in marketing this pension plan. (Please note ILPF is now known as the Teamster Members Retirement Plan)
Vice President Reissenweber was happy to present the following Union Membership Service Pins:
Rich Englund - 60 Years Robert Ulrich - 60 Years Charles Gricius - 50 Years (1st Row)
Harold Hasselman - 50 Years Dennis Anderson - 45 Years Roger L. Christian - 40 Years (2nd Row)
Neil Wendtland - 40 Years Frank P. Passantino - 35 Years William Kwiatkowski - 30 Years (3d Row)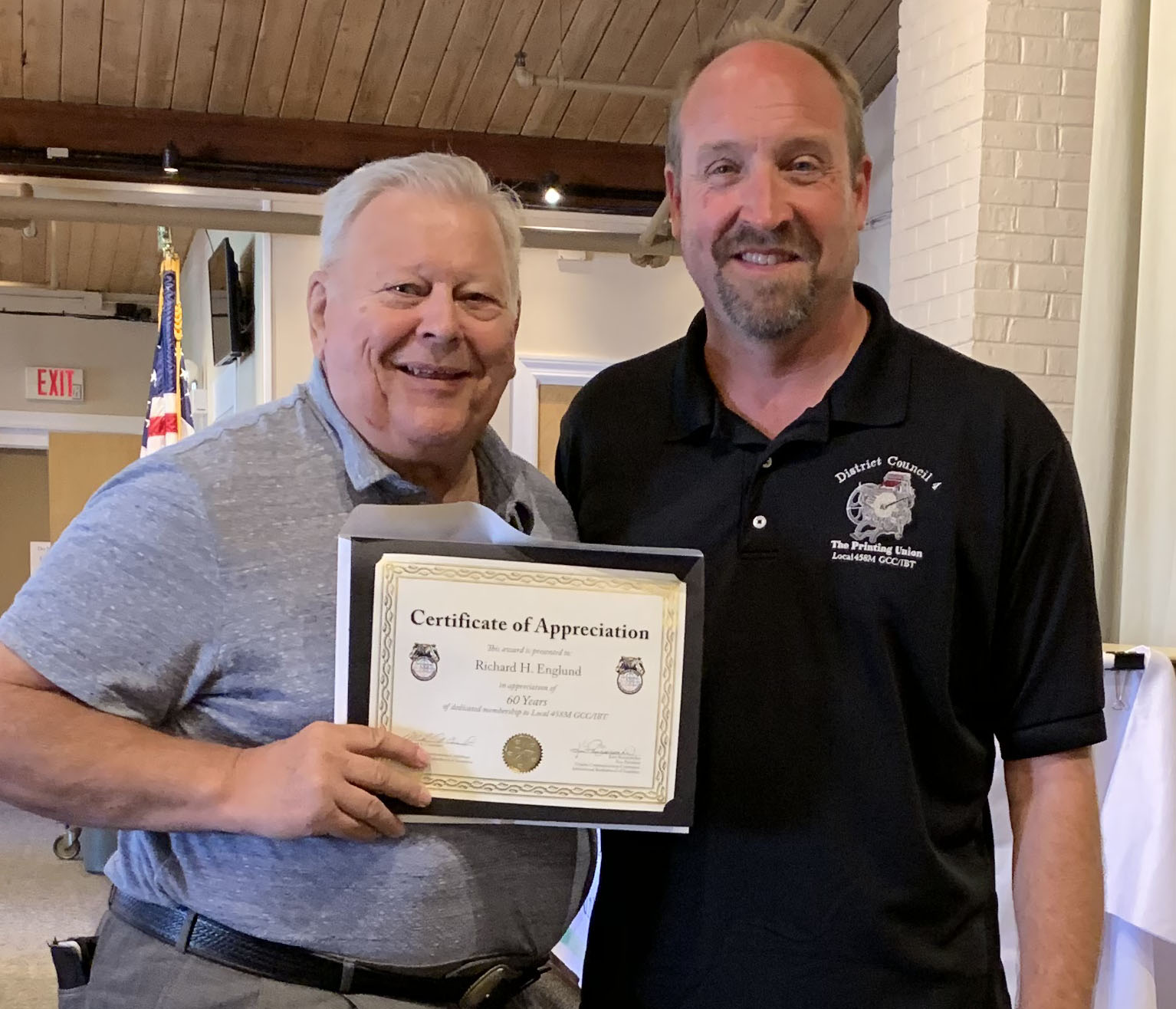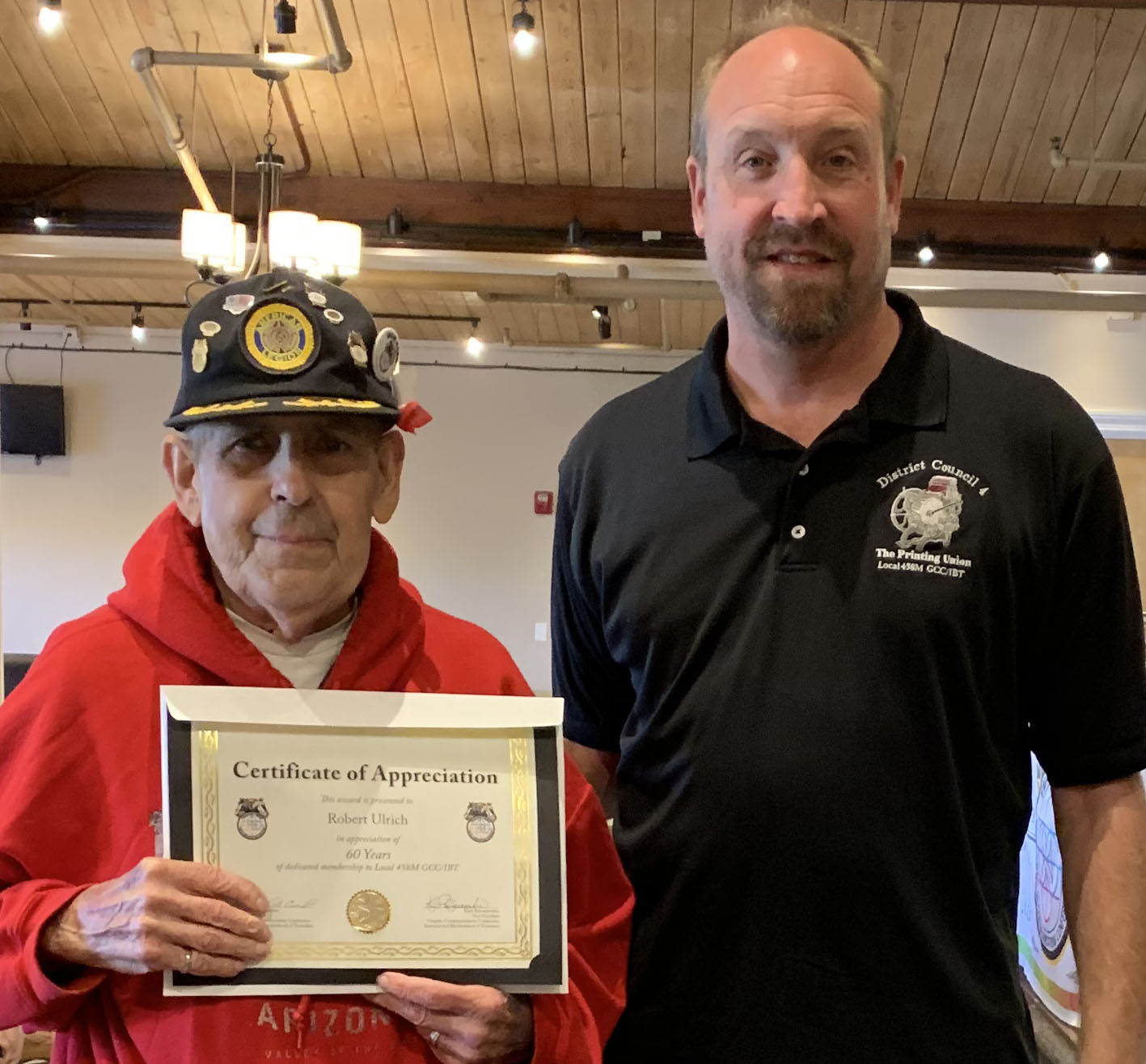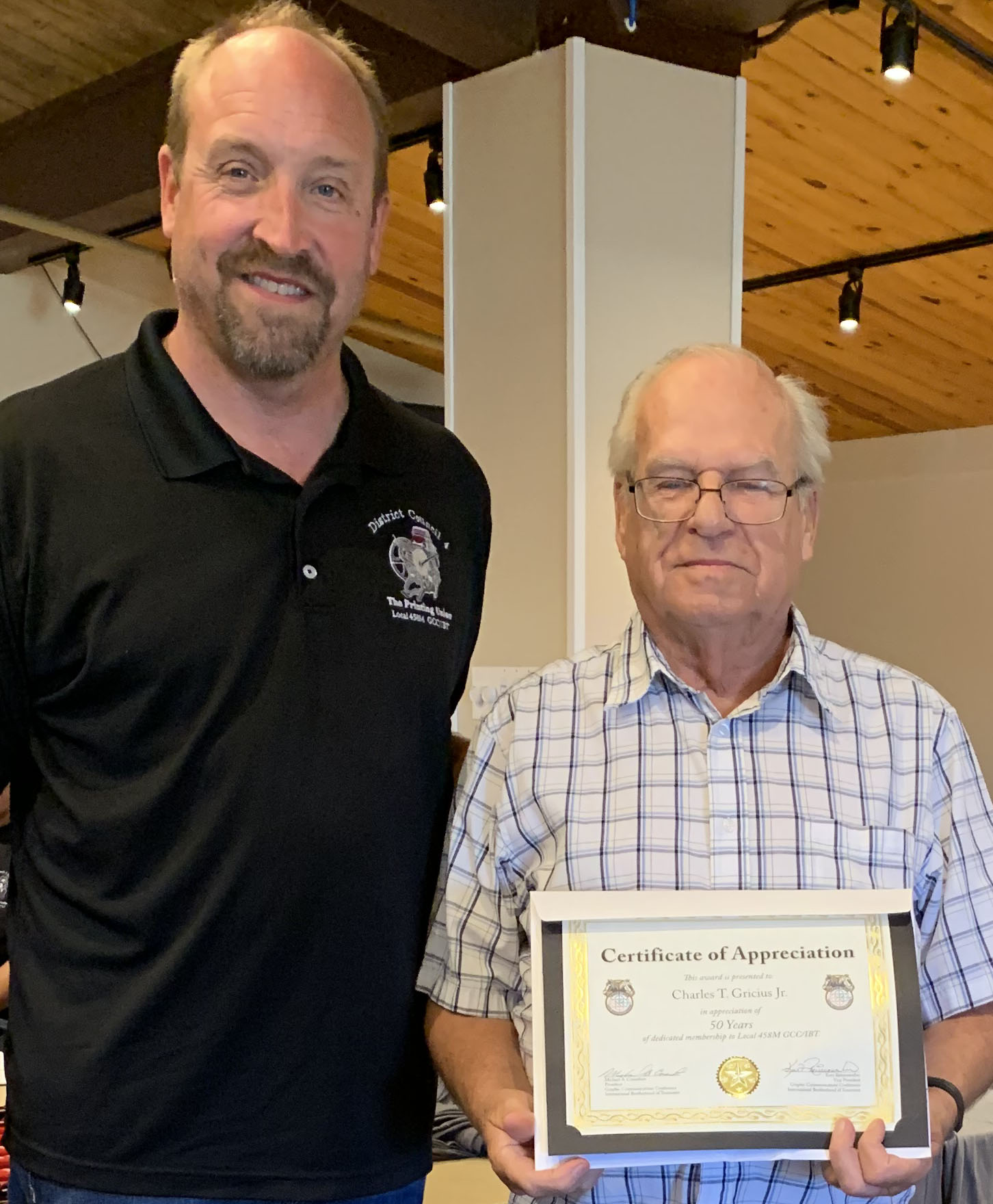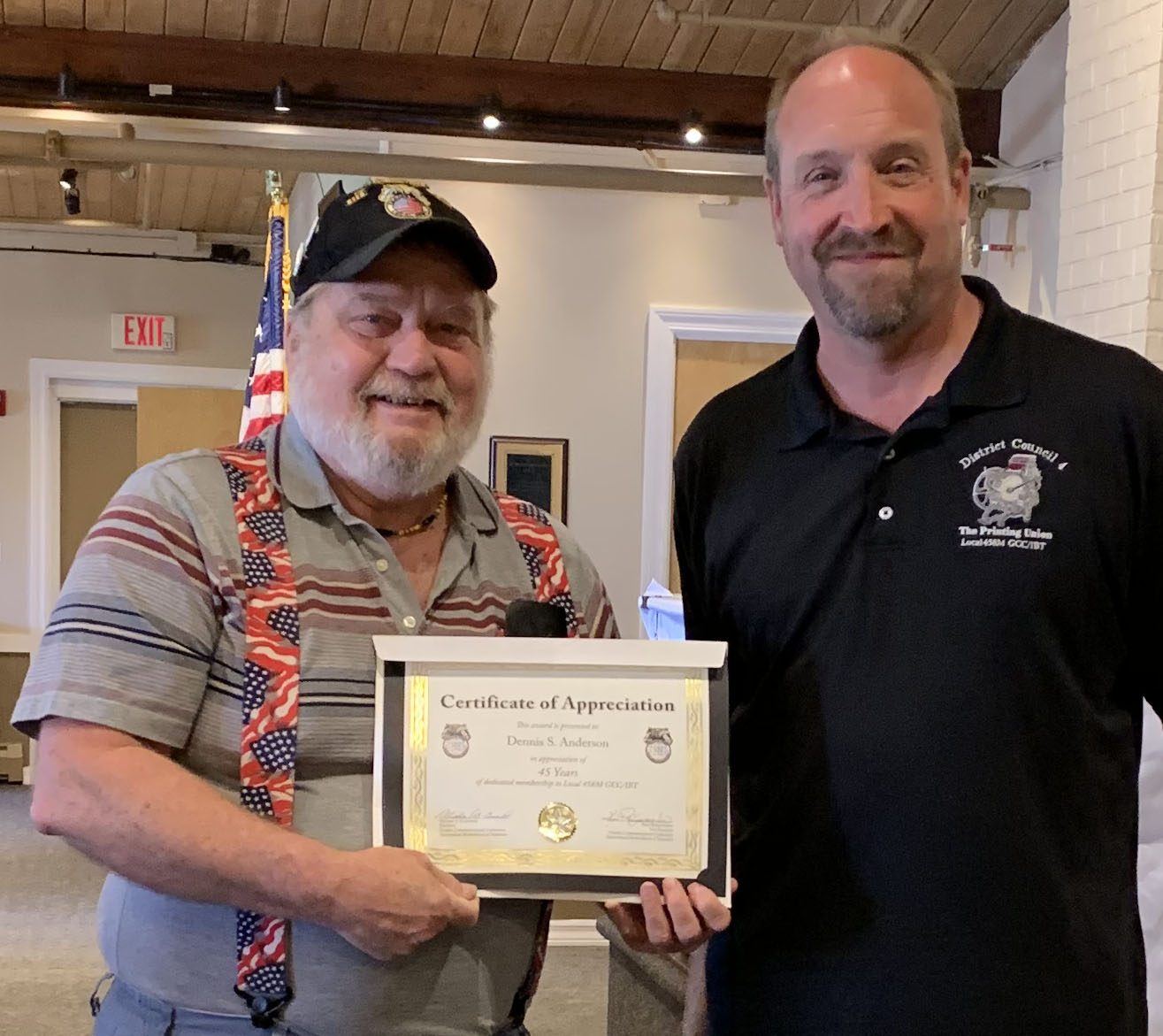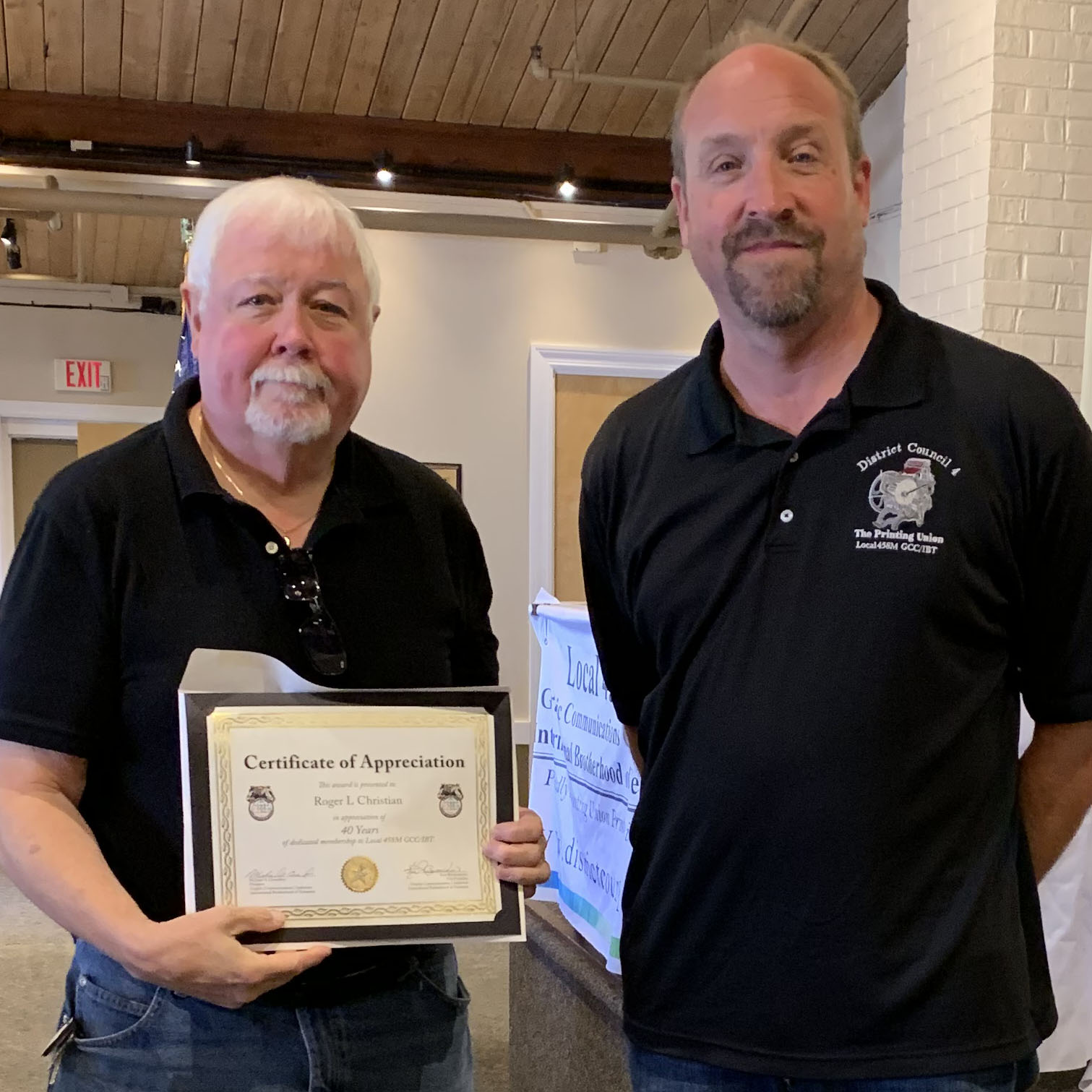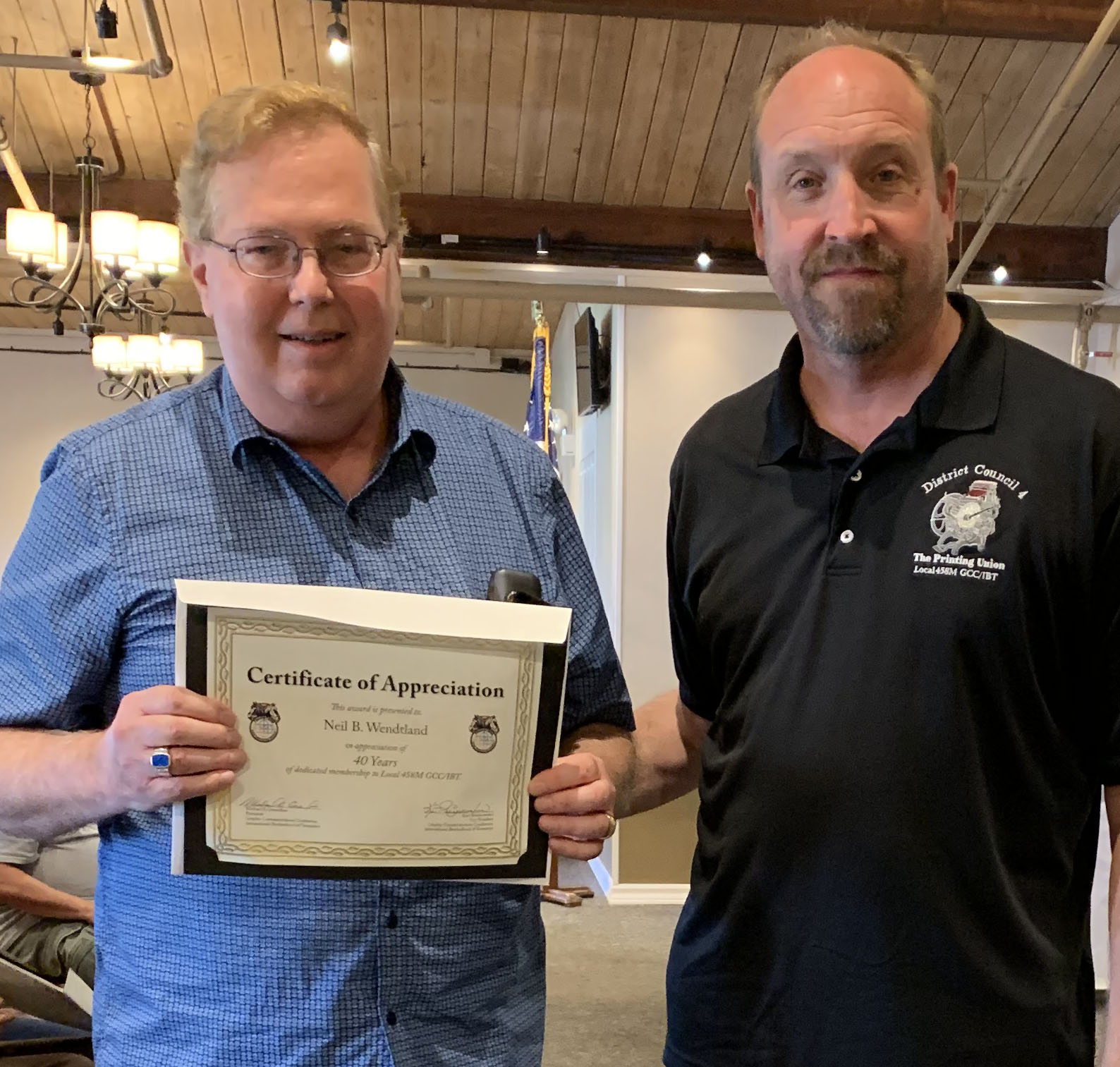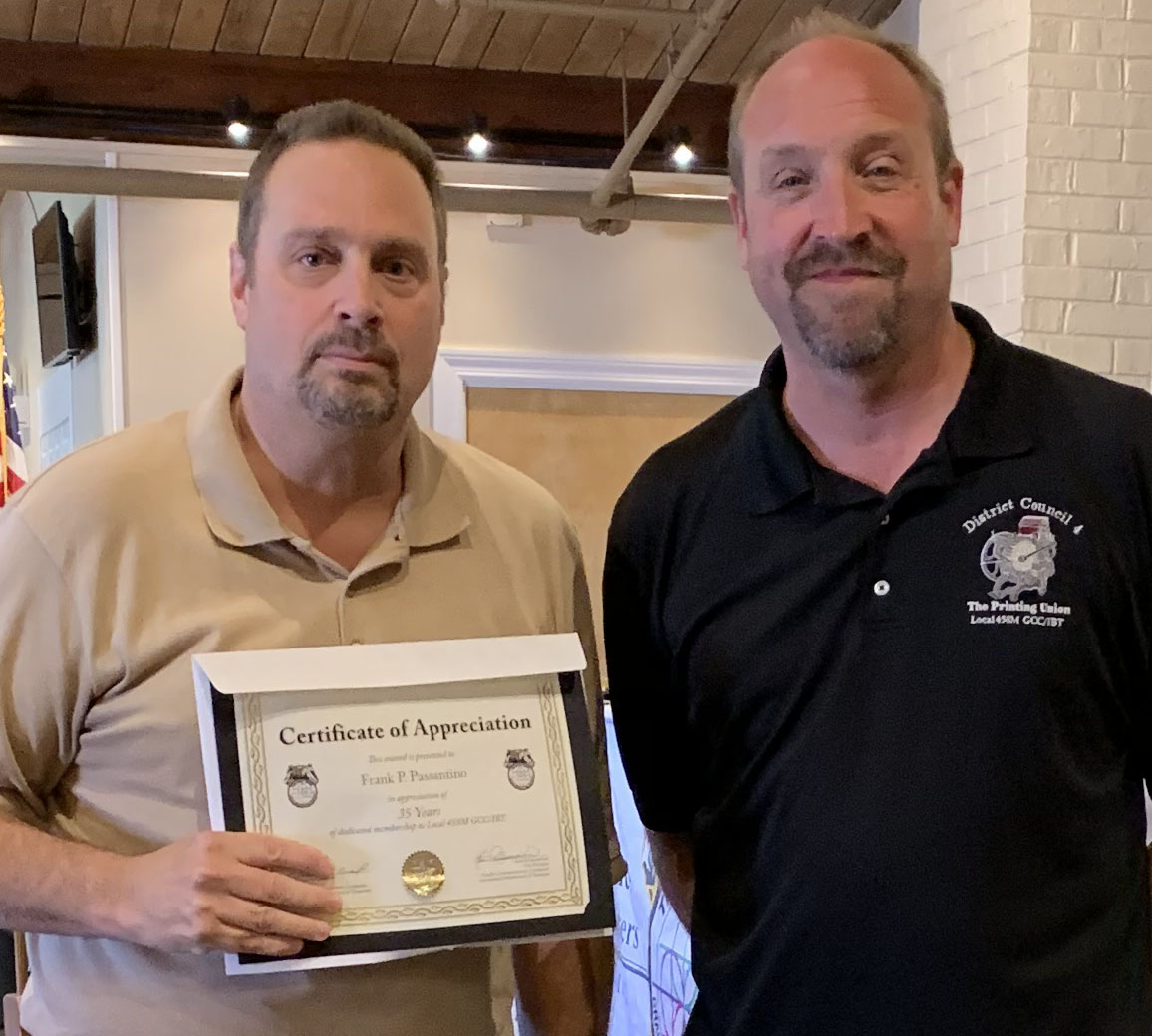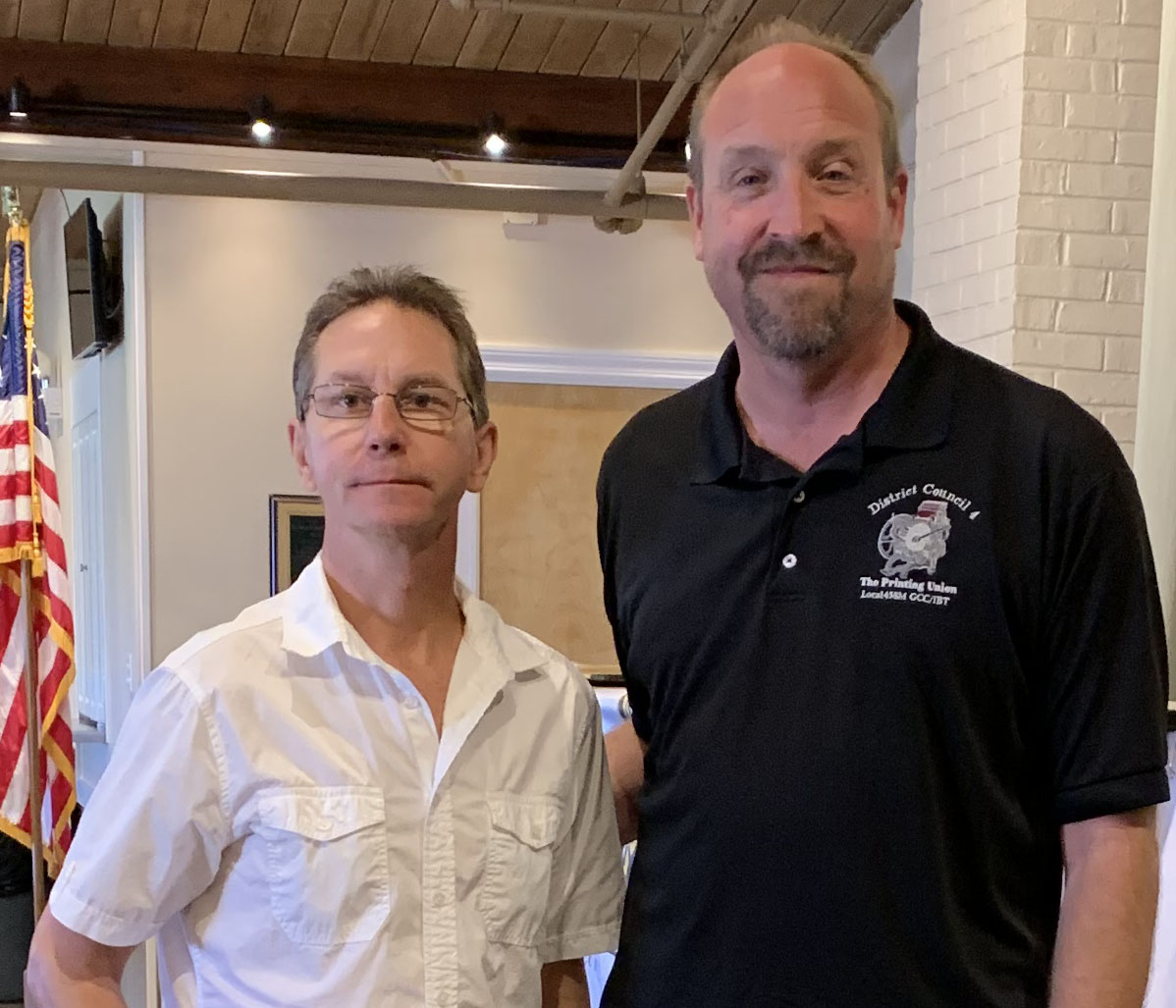 The Membership Raffle Winner was Gregory D. Vogel but he was not present, so the raffle rolls to $750.00 for the November Meeting.
LABOR RADIO

The Leslie Marshall Show: A nationally-syndicated radio show hosted by Leslie Marshall. Her show frequently highlights issues of concern to unions and working families across the country.

The Union Edge Show: hosted by Charles Showalter, this daily show based in Pittsburgh and available on-line features topics that are important to the middle class and members of labor unions.

Workers Independent News: a national radio show based in Madison, Wisconsin, the site of one of the largest civil actions against a state governor, this daily program recently featured Jim Hoffa, Teamsters General President, in an interview discussing the political landscape.
MEMBER INFORMATION

This service is offered to the members who are part of the Union's Health & Welfare Program.

The GCC/IBT District Council 4 Health & Welfare Fund encourages eligible members and their spouse to participate in our annual Preventive Care Exam program.

Each participant will receive a $200 Gift Card, provided by your Health Fund!

Appointment slots are available for you now – and the exam is covered at 100%!

See the video above to learn more about our new Preventive Care Program.

To make an appointment, call Health Dynamics at 414-443-0200 (option 5) – or use the Locations Link below to find the examination site that suits you best and call them directly.

---

UNION DISCOUNT PROGRAMS

As a Union Member you are elgible for services at a discounted rate, Scholarships and much more to view what benefits you are eligible for please click on the following link: https://www.unionplus.org/