WHO WE ARE

Teamsters District Council 4 is made up of hard-working men and women throughout the state of Illinois and Indiana, we are an affiliation of members of Local 458M and Local 568M. Our members are diverse and traditional in the Graphic Industry, we represent from Garment Stitchers to Newspaper Pressman our strength is found in our diversity in our trade!

Teamsters District Council 4 represents its members through our Local Union Officers, Local Union Stewards, and Local Executive Boards. Our Union has been active for over 100 years in the Chicagoland area and we are proud of our history and knowledge in the Graphic Industry. Having the International Brotherhood of Teamsters behind us we work to negotiate the best contracts possible and to provide the strongest day-to-day union representation for our members.
| | | |
| --- | --- | --- |
| | | |
| | | |
| | | |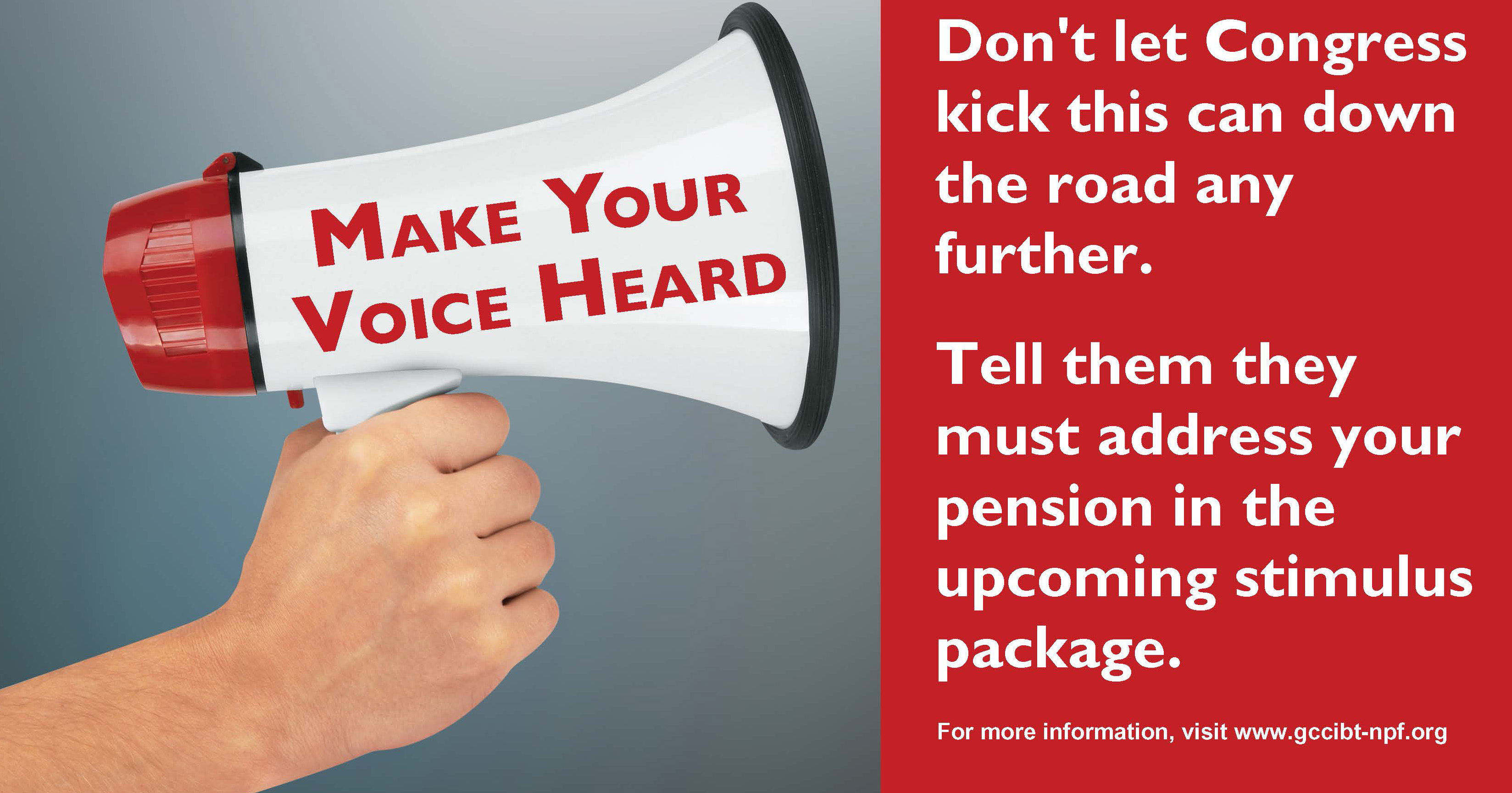 T a k e A c t i o n - - - C a l l T o d a y !
888-979-9806
Congress is considering another stimulus bill to help save the economy from
further decline. Your pension benefits must be addressed in this stimulus bill.
Unless Congress takes action, your hard earned pension will be cut to almost
nothing by 2025.
Congress has helped airlines, the auto industry, banks,
and Wall Street.
Call today and let your Senators know that now is the time
to fix this critical issue !
• Provide your name and where you live
• Tell them support for multi-employer pensions must be included in the
upcoming stimulus bill
• Tell them you are a participant in the GCC/IBT National Pension Fund
• Tell them your pension security is a top priority for you in the upcoming
election and you hope it's high on the Senator's list of priorities also!
See attached information packet for more details.
Download:

NOW IS THE TIME SENATOR CONTACT KIT 062520.pdf
We are asking for your help.
We have received information on Local 458M members passing away from other sources, but we have not been successful in reaching the family. Please look over the list below if you know the family please have them call the local office at 630-668-4337, so they can collect on their death benefit: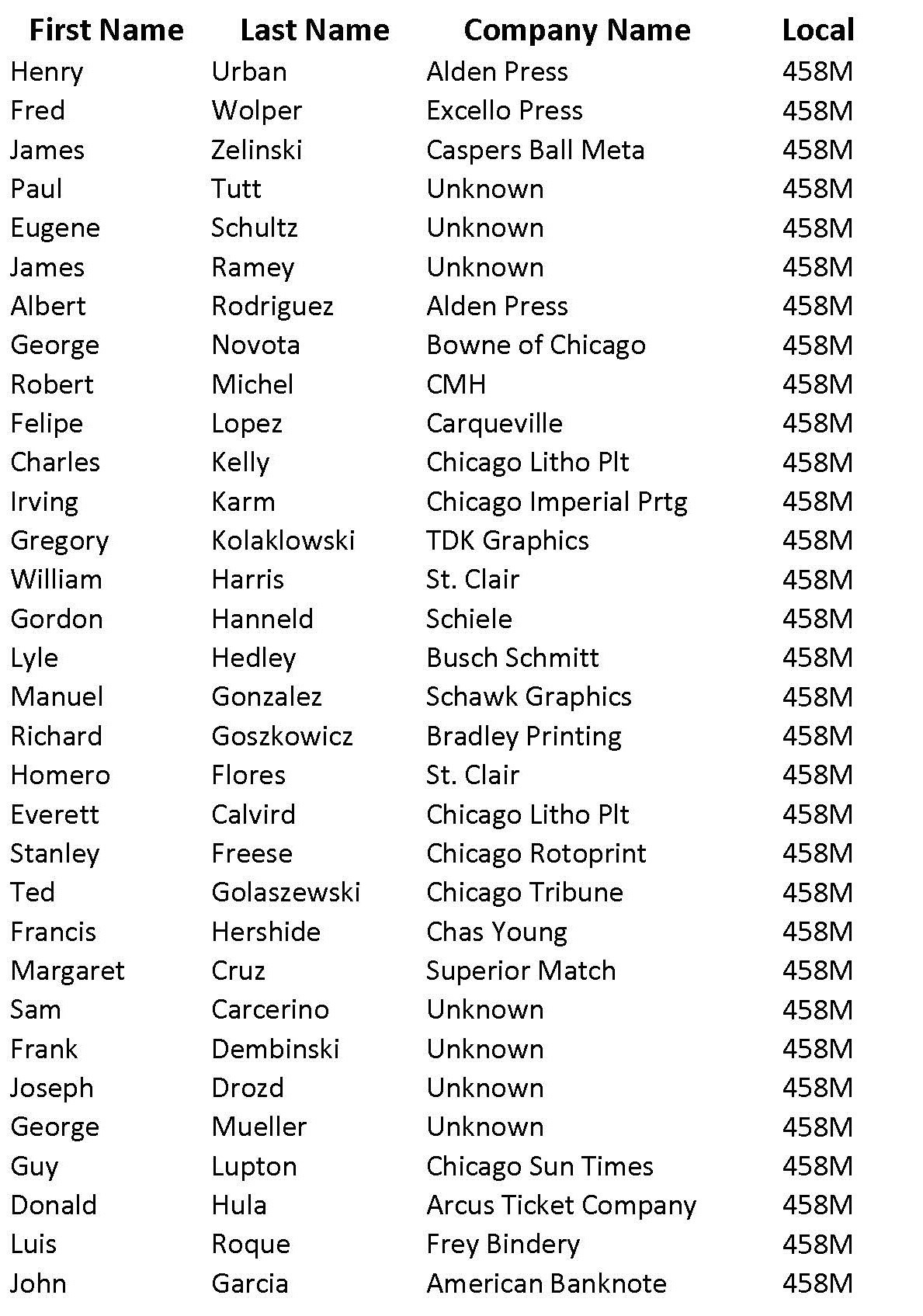 It has been a very challenging last couple of months as our worlds have turned upside down. We are facing times that I don't think anyone would have ever imagined we would be living through. We have worked very hard with our employers and our council to see what type of process and procedures we can put in place to get everyone through these trying times.
The Board of Union Health Care Trustees had a special conference call regarding the COVID-19 and what we can do to help our members get through this pandemic. The trustees have come up with a new short-term disability plan for our members that are directly impacted by COVID-19. There are some guidelines that would have to be met for the members to qualify for the STD. Please see below.
Coverage Changes:
COVID-19 testing and any related visit associated with the test, including telehealth visits, is covered at 100%

Treatment for COVID-19 is covered at regular plan benefits

All virtual visits will be covered during this COVID-19 Pandemic. MD Live is still 100%, all others covered at regular plan benefits.

During this COVID-19 Pandemic, the definition of disabled or disability for employees has been amended to include:

You are subject to a government quarantine or isolation order related to the Pandemic Illness.

You received a written recommendation from a health care provider that you self-quarantine due to concerns related to the Pandemic Illness

Your employer requested that you self-quarantine.

Other points to note:

Employees cannot collect unemployment and Short Term Disability (STD) at the same time – one or the other.

Employees that are furloughed will not automatically quality for STD, they must meet the new definition.
If you have any questions that you might qualify for this benefit, please do not hesitate to contact BMGI at 1-800-997-4586.
We wish that all of you and your families stay safe and healthy. We look forward to hopefully meeting together again after the summer break.
As we are all aware our Country and State are suffering a Virus Pandemic and as a result many of our brothers and sisters have been laid off due to lack of work.
Unfortunately, many companies financially are not able to keep their employees working. Please click on the following link to address any questions regarding Covid-19 Unemployment Benefits
We need to help get this virus under control by staying healthy, making sure to respect social distancing, and stay at home to reduce exposure.
We hope this epidemic gets under control soon, so we can all get back to work.
But for now please stay safe and healthy!
MEMBER INFORMATION

This service is offered to the members who are part of the Union's Health & Welfare Program.

The GCC/IBT District Council 4 Health & Welfare Fund encourages eligible members and their spouse to participate in our annual Preventive Care Exam program.

Each participant will receive a $200 Gift Card, provided by your Health Fund!

Appointment slots are available for you now – and the exam is covered at 100%!

See the video above to learn more about our new Preventive Care Program.

To make an appointment, call Health Dynamics at 414-443-0200 (option 5) – or use the Locations Link below to find the examination site that suits you best and call them directly.

---

UNION DISCOUNT PROGRAMS

As a Union Member you are elgible for services at a discounted rate, Scholarships and much more to view what benefits you are eligible for please click on the following link: https://www.unionplus.org/
LABOR RADIO

The Leslie Marshall Show: A nationally-syndicated radio show hosted by Leslie Marshall. Her show frequently highlights issues of concern to unions and working families across the country.

The Union Edge Show: hosted by Charles Showalter, this daily show based in Pittsburgh and available on-line features topics that are important to the middle class and members of labor unions.

Workers Independent News: a national radio show based in Madison, Wisconsin, the site of one of the largest civil actions against a state governor, this daily program recently featured Jim Hoffa, Teamsters General President, in an interview discussing the political landscape.