WHO WE ARE

Teamsters District Council 4 is made up of hard-working men and women throughout the state of Illinois and Indiana, we are an affiliation of members of Local 458M and Local 568M. Our members are diverse and traditional in the Graphic Industry, we represent from Garment Stitchers to Newspaper Pressman our strength is found in our diversity in our trade!

Teamsters District Council 4 represents its members through our Local Union Officers, Local Union Stewards, and Local Executive Boards. Our Union has been active for over 100 years in the Chicagoland area and we are proud of our history and knowledge in the Graphic Industry. Having the International Brotherhood of Teamsters behind us we work to negotiate the best contracts possible and to provide the strongest day-to-day union representation for our members.
| | | |
| --- | --- | --- |
| | | |
| | | |
| | | |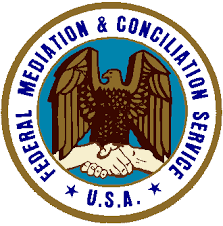 Federal Mediation and Conciliation Service, came in to train Local 568M union members on Sunday, April 7, 2019. It was a very informational class some of the topics discussed included the Nation Labor Relations Act, Contract Negotiations, and Grievance handling. We had members from Springfield, Bloomington, and the Peoria area attend the class. We look forward to using the knowledge we learned.
Thanks to all who attended the training class. Hopefully, later in the year another training class will be available to those who could not join us this time.
Thanks,
Korena Alvarez, President Local 568M
This service is offered to the members who are part of the Union's Health & Welfare Program.
District Council 4 has been working diligently in getting all our contracts ratified and out to our members.
We had some contracts that were still pending from last year and we were finally able to finalize them in the first couple of months of this year.
NWI Print Pro is one of our printers that is in Crown Point, Indiana (website: www.nwiprintpro.com). This Local 458M shop focuses on exterior/ interior signage, vehicle graphics, table covers, trade show displays, banners, doors/windows graphics, and so much more! All printed material and installation are done by Local 458M members. We are were happy to ratify a 3-year term agreement that reflected a wage increase upon ratification.
Bond Brothers is one of our printers that is in Lyons, Illinois (website: www.bondbrothers.net). This Local 458M shop services include business forms (checks, invoices, letterhead, envelopes, brochures, etc.), buttons, stickers, and so much more. We were happy to ratify a 3-year term that included a wage increase for the first (2) years of the CBA term.
Progress Printing is one of our female owned printers that is located in Chicago, Illinois (website: www.progressprintcorp.com). This Local 458M shop services include design services, letterhead, business cards, flyers, pamphlets, envelopes, holiday cards, stickers, etc. We were happy to ratify a 3-year term that included a wage increase for each year of the CBA term.
Upon ratification we will present all the members a copy of their agreement along with an Informational Membership Package that will also include literature on other contractual benefits.
District Council 4's primary goal is to diligently negotiate a contract that will meet our members needs.
If you have question on the status of your Shop Agreement please feel to contact one of our officers at the local office.
MEMBER INFORMATION

The GCC/IBT District Council 4 Health & Welfare Fund encourages eligible members and their spouse to participate in our annual Preventive Care Exam program.

Each participant will receive a $100 Gift Card, provided by your Health Fund!

Appointment slots are available for you now – and the exam is covered at 100%!

See the video above to learn more about our new Preventive Care Program.

To make an appointment, call Health Dynamics at 414-443-0200 (option 5) – or use the Locations Link below to find the examination site that suits you best and call them directly.

---

UNION DISCOUNT PROGRAMS

As a Union Member you are elgible for services at a discounted rate, Scholarships and much more to view what benefits you are eligible for please click on the following link: https://www.unionplus.org/
LABOR RADIO

The Leslie Marshall Show: A nationally-syndicated radio show hosted by Leslie Marshall. Her show frequently highlights issues of concern to unions and working families across the country.

The Union Edge Show: hosted by Charles Showalter, this daily show based in Pittsburgh and available on-line features topics that are important to the middle class and members of labor unions.

Workers Independent News: a national radio show based in Madison, Wisconsin, the site of one of the largest civil actions against a state governor, this daily program recently featured Jim Hoffa, Teamsters General President, in an interview discussing the political landscape.